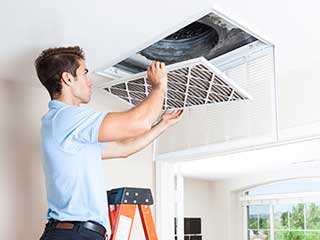 Regular cleaning is highly recommended, to remove dirt, dust, and debris. Most people elect to hire a professional when they absolutely need it, in situations like rodent or insect infestation. Rather than waiting until things get really bad, you're much better off scheduling regular appointments to avoid your ducts becoming too clogged.
Airborne particles can wreak havoc when recirculated in an office environment, an issue compounded by mold. This is usually caused by moisture, which can accumulate and present problems. If either of these problems surface, you should definitely have a professional cleaning. The last thing you want is a breeding ground for bacteria, so expert help is necessary to clean those hard to reach spots. With this being said, what problems should you be looking out for regarding your air duct?
My Energy Bills Are Through the Roof!
Are you paying more than usual on your energy bill? If so, there's probably a good explanation for the hike. When air ducts are dirty, or clogged with debris, your system has to work harder to pump air through. Increased usage is a sign that your ducts need a good clean, or perhaps even need to be replaced. Professionals can inspect your ducts and get to the root of the problem.
Eek… a Rat!
You'll usually be able to see or smell signs of rodents. If so, it's definitely time to get your ducts cleaned. Infestations can damage your HVAC system, while contributing to higher energy bills. Also, the smell emitted is very unpleasant, so should be attended to immediately.
Yuck, That Duct Looks Dirty
Dirt and debris are sure fire signs that your duct is blocked. This can cause contaminants to circulate through your breathing space, which can exacerbate allergies and respiratory issues. Even if you're not sensitive to these issues, it isn't hygienic to leave dirty ducts to fester.
We hope you have found this article informative, and have a better understanding of what to look for in and around your ducts. If you would like to ask anything, please contact our experts and we'll get back to you as soon as possible!