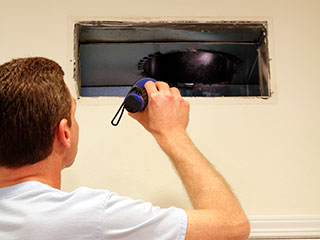 Why Is It Necessary?
This service is more important than you may realize! While your air duct brings in air from outside for heating or air conditioning, it's also pulling in things like dirt and even smog or other particles already in the air. These things get trapped inside and begin to add up over time, creating more and more of an issue. Periodic cleaning of your vent will get rid of all this, as well as any associated problems in no time!
What Problems Does It Cause?
There are two main areas affected by a dirty air vent, which are health and energy spending. The materials that get stuck in the duct can easily contaminate the air as it passes through, which lowers its quality drastically. This can have a negative effect on healthy individuals by making them fatigued, and for those already at risk for breathing troubles due to asthma or otherwise. Even the elderly or children may have issues breathing thanks to poor air, and anyone with allergies will suffer harsh symptoms even indoors. As for energy, the blockages in the duct slow down airflow, which makes it harder for air to spread throughout the home. The result is the system needing to run longer, which wastes energy.
We'll Take Care Of It
Our experts are happy to come out at a time that's best for your schedule to get to work on your air ducts! We use the best equipment available to dislodge and suck up the dust and otherwise so that there's no risk of it further contaminating your home's air. Your ducts will be thoroughly clear again in no time, and you'll be able to breathe easily again! If you notice troubles with allergies indoors, vents that are blocked up with dust, or high energy bills, it's time to deal with the situation now!
Schedule Your Cleaning Appointment Today
Call Air Duct Cleaning Canyon Country now and let us get your air clearer and energy waste lowered right away!