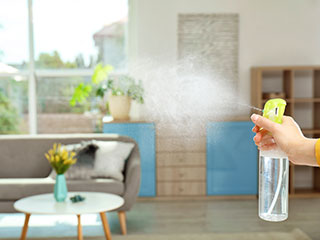 Blockages and contaminants in your air ducts can ravage your indoor air quality. Maintaining good air quality at your home or office is essential - it's easy for health problems to develop if contaminants are allowed to leak into your property's atmosphere. From dust and debris buildups in external air ducts to mold, damp and fungus, there are lots of consequences to neglecting dirty ventilation systems. At Air Duct Cleaning Canyon Country, our team of professional technicians is ready to perform any cleaning, maintenance, and air quality testing to ensure you are breathing freshness all over again. You can majorly improve the quality of indoor air inside homes or commercial spaces by having the air ducts cleaned thoroughly. This also has positive effects on energy spending.
Problems of Poor Indoor Air Quality
Human lungs can deal with a certain level of pollution in the air. Our bodies are exposed to contaminants when outside at all times, so our bodies are perfectly capable of handling a low level of harmful particles. However, indoor air is recirculated and breathed in multiple times, so any contaminants have the potential to cause problems. Those most at risk, such as the young, elderly, and sufferers of respiratory conditions, can also be harmed by a much lower level of pollution than that. Bad indoor air quality due to pollens, dust, or other airborne contaminants creates a poor indoor atmosphere. When you feel your nose starting to get stuffy, you'll want to consider getting the air ducts cleaned or at least checked.
Causes of Internal Pollution
Modern properties circulate air continuously through ducts in the walls. This helps to reduce the occurrence of mold in air ducts. But it has the potential to be counterproductive as well. If these ducts become blocked they can begin spreading dust particles through the air. Mold also loves to grow in these dark spaces, and if it's allowed to take hold, it can begin to spread spores throughout your home. Airborne contaminants such as these create far worse things than poor indoor air quality. With the health risks involved, it's important to ensure the air ducts get cleaned when you suspect the presence of mold or other harmful pollutants.
When Should You Clean Your Air Ducts?
Your air ducts aren't the most accessible part of your home - although you may be able to see a few feet into them, debris tends to build up around corners instead. It's impossible to know whether your ducts need cleaning or not until it's too late and people start to feel the effects of the unclean air. Regular appointments are the best way to ensure your air vents are clear and free from potentially dangerous materials. Even cleaning the air ducts twice a year can have some positive effects. By removing the accumulated debris and dust inside the ductwork, you'll help the indoor air quality remain fresher and cleaner.
Air Duct Cleaning For Canyon Country
Whether it's a commercial space or a local residence, our Canyon Country HVAC cleaning technicians can help improve indoor air quality significantly. If you're looking for quick and professional service that will get the job done right the first time, look no further! Call our nearby air duct cleaning service team for optimal results at affordable costs.