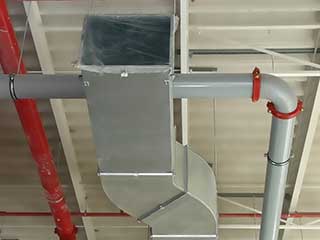 One of the best things about Canyon Country is that you can "breathe easy" here. Unlike some of the big cities close by -- Los Angeles especially comes to mind -- once you head down Newhall Pass and into the foothills, you have a lot less to worry about when it comes to smog. Now imagine your average customer; he or she wants to come into your business establishment and enjoy a similar atmosphere. Many people can be quite sensitive to smoke, allergens, and other agitating particles that you may not even be aware of yourself.
So What Can I do?
Well, not to toot our own horn or anything, but our team at Air Duct Cleaning Canyon Country is one of the best service providers out there. Our highly skilled specialists will help you raise the foot traffic into your Commercial Air Duct Cleaningoffice and lower the traffic coming out of it. The air quality will be so good that your customers will be reluctant to leave.
Can It Really Make That Much of A Difference?
We don't have to tell a savvy business owner such as yourself how buying behaviors can be influenced by the environment, and if people have any trouble with your air -- if they feel, say, a little queasy or migraine-prone whenever they visit it -- they may come to associate those feelings with you and your products or your service staff! This could be the death sentence for any great business, especially in Canyon Country. Let us help you to make sure your customers breathe a sigh of relief whenever they see you!
So How Can We Help?
As the premier commercial air duct cleaning team around, we have been able to provide top quality service to businesses that cater to the elite and to the community at large. We are known for our exceptional customer service, as well as our complete discretion, especially when we work with restaurants. We can operate around your business schedule and can provide you with excellent dryer vent cleaning as professional as the one we offer for our namesake air ducts.
Call Today To Get The Best Service Around
If you have questions, comments, or want to get started right away, we welcome you to reach out to us. One of our caring representatives will help you evaluate what services are right for your particular business.
Whether you're in need of commercial air duct cleaning, repair, or a full-scale replacement, we're the team to call.